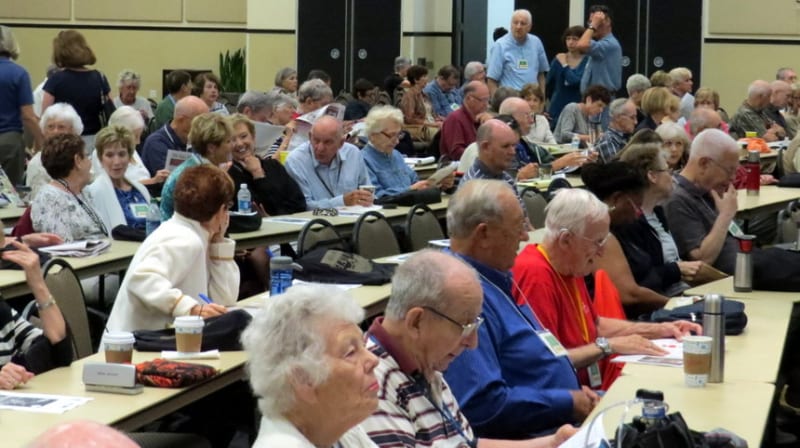 We are excited to be starting our new spring semester and wanted to give you an overview of what there is to come! The Curriculum Committee has put together a wide diversity of topics that include lectures about history, health, environmental science, global issues, musical performances, and more!
We are happy to announce that the two speakers who were cancelled during our fall lectures due to Hurricane Dorian will be back this semester. Shannon Lindsey will be presenting her topic "UCF Gallery: Catalyst for the Arts" on January 21st and Linda Walters's lecture on "Plastics on the Half-Shell: What's Up with Microplastics in Our Oceans & Estauries?" will take place on March 10th.
Some interesting topics this month include Collin Makamson, Assistant Director of Education for Curriculum, speaking about the National World War II Museum in New Orleans and  Dr. Mehul Petal, Ophthalmologist and Assistant Professor of Medicine, discussing cataract and eye diseases. Dr. Patel's presentation will include a video from an actual cataract surgery.
The month of February brings weekly presentations from the UCF Arts and Humanities Department paired with a lecture from UCF's Office of Global Perspectives. You can look forward to "Ives, Cowell, Cage, and the Birth of American Experimentalism in Music," "Spotlight on Clarinets," and a talk on the UCF Theatre Department's upcoming performance, "Urinetown: A Satirical Musical of Our Time." Global Perspectives will be discussing US-Turkey Relations, The Global Water Crisis, and Economic Growth and Immigration.
In the last half of our spring semester will be having talks about the Seminole Wars from Dr. Cheong, French and Sacher, UCF History Department and Alexander Hamilton by Dr. David Head. We will be visited again by Dr. Tyler Fisher, a UCF professor and UCF's first Rhodes Scholar, who will talk about The Yezidis of Iraq. "Florida Bats," "The Power of the Golden Rule in Science: A Focus on Maps, Apps, and Drones," "Trendy Diets," and "Sports and Diversity" are all topics you can look forward to towards the end of the semester.
Finally, we will end the semester with the annual LIFE Showcase! We will celebrate the year with our annual meeting membership meeting, showcase displays, and a jazz piano performance presented by Per Daneilsson, the UCF jazz piano instructor, and students.