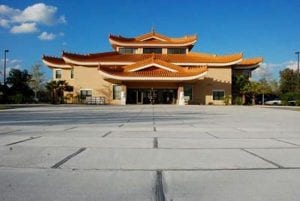 The Guang Ming temple in Orlando, Florida, United States is the largest Buddhist temple in Central Florida. The three story, 30,000 square feet, traditional Chinese-monastic style temple was completed in 2007 and cost approximately $5 million to construct.
The temple provides multicultural education, serves as a center for social functions and festival activities, and most importantly, through this, the Buddha's teachings can be made available to benefit society through community outreach programs, and enhance the spiritual growth of Buddhist devotees through their everyday actions and pilgrimages.
Guang Ming Temple, a branch of Fo Guang Shan, which is Chinese for Buddha's Light Mountain.
Please check the tour information that contain rules of respect for visitors to the Shrine. Click TOUR.
Date: October 16, 2019
Time: 10:30 AM – 12 PM
Location: Guang Ming Buddhist Temple
6555 Hoffner Avenue, Orlando 32822  Map
Details
The tour is limited to a maximum of 20 people.  We will accept 25 sign ups.  Those who sign up after the first 20 will be placed on a waiting list. If openings become available you will be notified.
This is a guided tour of the temple.
You must be a member of LIFE to sign up or attend this event.
Cost: Free, donations accepted.
Please arrive 15 minutes early.  We will meet in front of the main entrance. Parking is available at the shrine.
Tour Registration is now closed.  Tour capacity has been reached.
You will notified if you are on the waiting list and if vacancies occur.