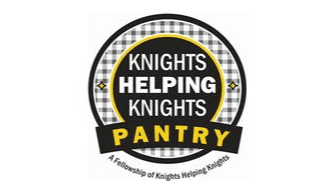 On Tuesday, March 3rd, LIFE at UCF successfully hosted yet another semesterly Knights Helping Knights Pantry Food Drive! Thank you to everyone who donated in support of this amazing UCF organization and partner. Also, please join us in thanking Debra Barton and Jayne Leach for putting together such a successful event and drive. See this drive's overall success and more about Knights Helping Knights Pantry below!
Total Contributions:
$2,355 was collected from our members
542.5 lbs of non-perishables donated
1,279 non-perishables donated
LIFE also donated toiletries, school supploes, and other various miscellaneous items.
As a comparison, LIFE members donated $2,060 and 782.7 lbs of food (1,343 items) at the Fall 2019 drive. President Todd Bowers presented a $500 check from LIFE to the pantry on October 15, 2019.
The Knights Helping Knights Food Pantry was created by the UCF LEAD scholar students in 2009 to provide free food and necessities to any fellow student who was struggling. The Pantry serves about 4,000 students every month—or an estimated 14% of UCF's undergraduate student population. LIFE members have contributed to the Pantry through food drives and cash donations for many years as evidenced by the 2018-2019 contributions: 418.2 pounds of food; $1,239 in cash donations.
Students who present a valid student ID can pick up 5 food items each day. There is no limit for toiletries or clothing.
Small items can be dropped off anytime. There is a donation box next to the information desk in the rotunda of the Student Union, same building as Pegasus Ballroom. Large donations can be driven to the Pantry, located in Ferrell Commons. Call the Pantry: 407-823-3663 for directions. Someone will come out to your car to collect your items. No need to park.
Checks are accepted every week. Make your check to Knights Helping Knights Pantry. Give your check to Leslie Collin, LIFE Executive Director and we will deliver your check to the Pantry.
Learn more at Knightspantry.org.
Set your calendars for Tuesday, March 3rd, for our Spring Food Drive for the Knights Pantry. More information to follow!